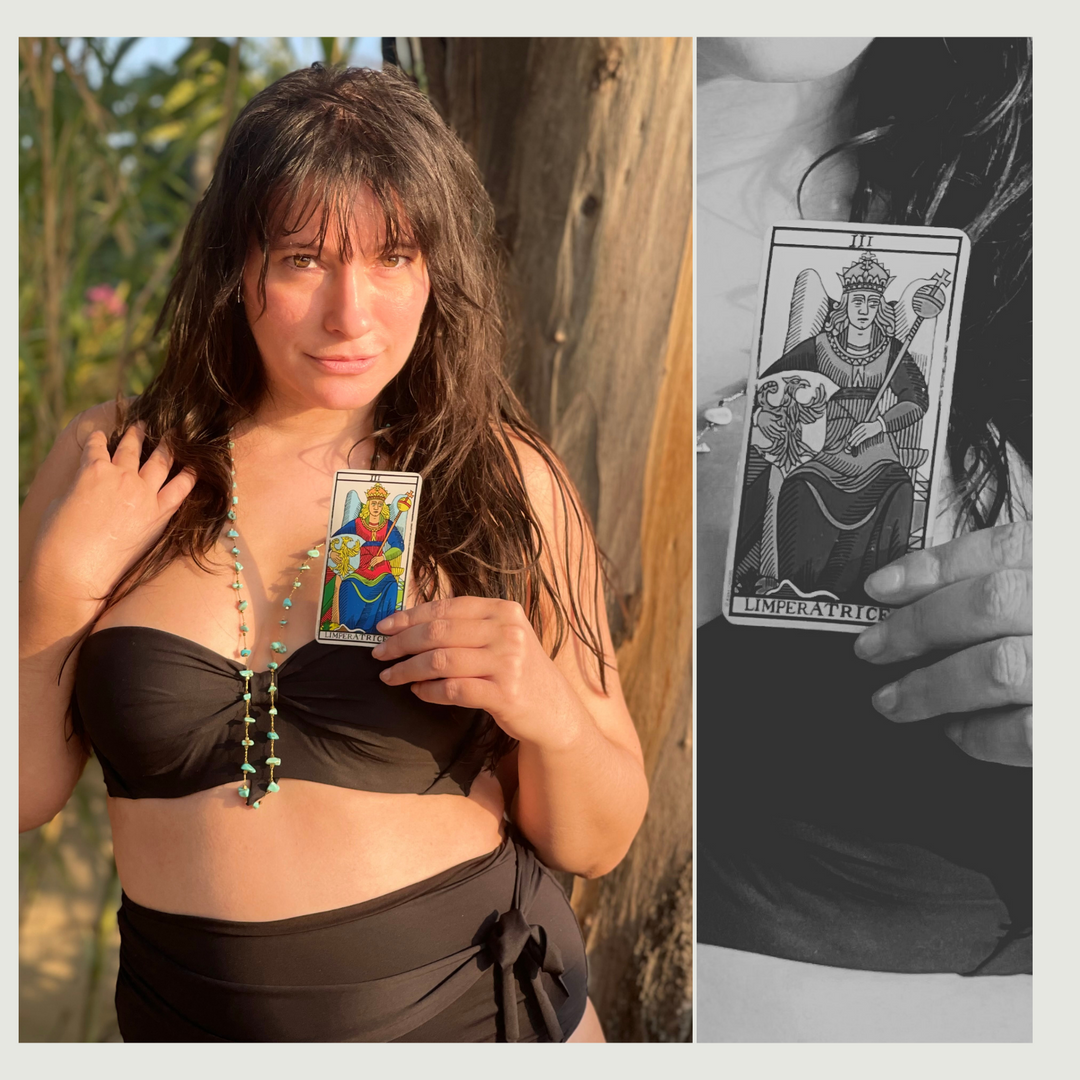 Erotic Spirituality: Downloadable Course
Erotic Spirituality: Downloadable Course
Regular price
$55500
$555.00
In stock, ready to ship

Inventory on the way
Book your free "Erotic Discovery" call with Maria Soledad.
This introductory call can be scheduled by emailing Maria directly at goldenfreedom333@gmail.com.
Erotic Spirituality: A Way of Life Based in Seduction
Erotic Spirituality is a multi-session dive into your primitive feminine energy, your wildest erotism, your embodiment of pleasure and reception, and total surrender to yourself and the infinite space you are. You'll receive this course in a downloadable format that is made up of 5-parts, each 60-75 minutes, that can be worked through at your own pace. Maria Soledad will guide you through techniques and practices that can be integrated into your life to maximize your feminine expression and open yourself more fully to pleasure. 
A message from Maria:
This is a dive through your luscious body.
As women we have been conditioned with lots of restrictions. Feeling that we need to conform and fear our deepest desires for pleasure, abandonment to ecstasy and a freeing expression of our sexuality. These are the times to honor the primitive in us, the wilderness that longs for safety, for a space to be seen, fully received and fully enjoyed. And the way? The fierce feminine: only love, total surrender to be at service of pleasure and embracing it all from a place of spacious generosity. The only way is vulnerability.
It's my truest craving to share with you technologies that will ignite and fire up your internal and natural magic, your ability to hold pleasure, to be present and available for ecstasy, orgasm and the electrifying joy that comes when you allow life, love, experiences, another and specially your body to take you there.
This 5-dive experience is for you to let go, dive deep, experience utter pleasure from your deepest core and emerge with the realization of how within you lies the most delicious, luscious self. All of this lies within so that you can be in a constant state of seduction with it all.
Our Map: 
✨5 60-75 minute dives
✨ They will be focused on a specific aspect of feminine energy that needs to be activated. Each dive is described below, week by week.
✨These 5 dives are experiential. You'll also receive technologies and practices to immediately apply the activations you will go through in your  everyday life. 
✨ You'll get a 20 minute one-on-one reading with me before you start. Using my channeling magic, I'll assess where you are in terms of sense of embodiment and in terms of your feminine energy. We will also receive main relationship patterns that need integration.
Dive  1 
Womb activation. Conscious touch. Practices to ignite the senses and your experience of your within through the body. 
Dive 2 
Seduction. Tantra technologies. Activation of deep arousal and the experience of internal beauty as a catalyst for rich magnetism. 
Dive 3 
Releasing control through your body. Realizing at a cognitive level what is the model of feminine energy and what is your actual feminine experience. Awareness of the consciousness of obedience and disobedience. Being. Embracing. 
Dive 4 
Igniting your love affair with the world. Active meditation to connect deeply with the most primitive in you. Unleashing your every aspect. Shining brightly for all to see. 
Dive 5 
Absolute surrender and integration of emotional maturity. 
The work is supported by tarot, psychomagic, tantra techniques, theta and gamma brainwave meditation and my overall channeling of ancestral feminine ways imprinted in our beings. 
You will receive the entire 5-dive course to experience at your pleasure. 
What to expect:
Re discover your body's sensitivity and what has been closed up or lost in you
Experience pleasure and your utter feminine expression to the core
Understand at a cognitive level, aspects of your primitive wound and how they have affected your sexuality
Ignite openness, availability, and presence in your body
Receive Magical techniques, both ancestral and unique to feminine wisdom, to wake up your body and be in your total magnetism everyday
This course is for you if:
You want to connect to your sacred beauty, power, and feminine energy and embody it
You've been feeling a disconnect from your body
Your body has changed and you are not comfortable in it
You desire a conscious connection with you and another
You wish to experience more pleasure within and without
It is easier for you to give and focus on the needs of others and you would love some balance to receive and release fully

Learn more about Maria Soledad by visiting her website:
Size chart
Shape
Weight & Size
 Original
Weight: 0.5 lb
Measured Flat: 6.75" long by 1.25" wide
Circumference: 3.5"
Slim
Weight: 0.5 lb
Measured Flat: 7" long and 1.33" wide
Circumference: 2.5" small end and 3.5" large end
Curve
Weight: 1 lb
Measured Flat: 7" long and 1.67" wide
Circumference: 3.75" small end and 5" large end
Medium Yoni Egg

Weight: 2 oz
Measured Flat: 42mm long and 30mm wide

This is our standard size, available in all crystal options.

Large Yoni Egg

Weight: 3 oz
Measured Flat: 50mm long and 35mm wide

This size is only available in rose quartz and black obsidian.